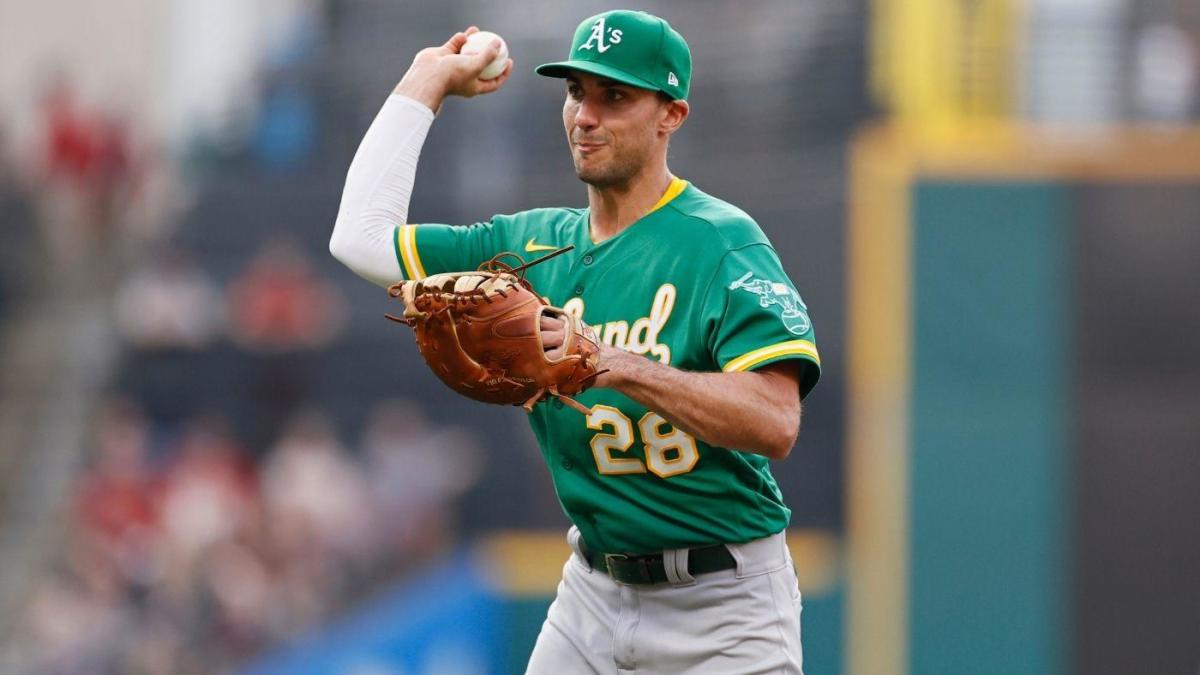 MLB Rumors: Yankees to Pursue Matt Olson; Rangers eye Clayton Kershaw; JD Davis of the Mets draws attention
The lockout imposed by the owner of Major League Baseball officially ended Thursday, which marked its 99th day. Players will soon head to camps to warm up for opening day, now scheduled for April 7. In the meantime, there is plenty of business to be done in the free agent and trade markets. To keep you informed, we'll be tracking all of the day's most important moves and rumors below.
As CBS Sports noted on Thursday, Track and field first baseman Matt Olson is one of, if not the primary, trade targets for many suitors. This list will include each of the Yankees (by Erik Boland) and the Rangers (Evan Grant), who, as you may recall, capped off the first half of the offseason by signing both shortstop Corey Seager and second baseman Marcus Semian.
Olson, 28 who arrived in late March, has two more seasons of team control. Last year he hit .271/.371/.540 (153 OPS+) with 39 home runs. Olson drastically reduced his strikeout rate along the way, dropping it from 31.4% to 16.8%. This improvement, if it is sustainable, could allow him to reach a new level of true talent.
It's no wonder, then, that the Yankees, Rangers and, in all likelihood, the Braves are lining up to add him to the middle of their rosters.
Rangers also to hunt Kershaw
Texas may not stop at Olson. According to, again, Evan Grant of the Dallas Morning News, the Rangers will face veteran left-hander Clayton Kershaw.
Kershaw, 36 in a week, is from the Dallas area and is said to be keen to pitch closer to home. At this point, he has spent his entire career with the Dodgers. Last season, he amassed a 3.55 ERA (115 ERA+) and a 6.86 strikeout ratio in 121 innings.
Kershaw was ranked the 16th best free agent by CBS Sports entering the offseason:
The word of this article is availability. This applies to Kershaw's free will in two senses. First and foremost, will he be affected by the elbow injury that sidelined him for the playoffs? Second, is he serious about leaving the Dodgers, the team whose hat he will wear on his Hall of Fame plaque? If Kershaw is good to ride, both on Opening Day and out of Los Angeles, then he should have plenty of suitors. We'll add that while Kershaw's curveball is getting all the attention, it was his slider that served as the main pitch for the first time last season. This is something to watch for moving forward.
The Rangers signed a different starting pitcher before the lockout, agreeing to terms with former Rockies right-hander Jon Gray on a four-year deal worth $56 million.
Yankees, Padres among those interested in Conforto
Olson isn't the only left-handed batter the Yankees are interested in. Michael Conforto, a 29-year-old player who rejected the Mets' qualifying offer, is also on their radar, according to Mike Puma of the New York Post. The Padres are also interested in Conforto, according to Kevin Acee of the San Diego Union-Tribune.
Conforto entered the offseason ranked by CBS Sports as the 23rd best free agent option available. Here is what we wrote at the time:
There may not be a good time for a player to have a disappointing season, but there is a bad time. Conforto learned that lesson the hard way hitting .202/.341/.298 in the first half of his walking year. Although he rebounded to some degree in the second half (.252/.347/.445), his chances of cashing in this winter were already dashed. Conforto, it turns out, may disagree with that assessment. He seemed like an obvious candidate to accept the qualifying offer, but a report from last month said he intended to decline and seek something better on the open market. Good luck.
Conforto hit .232/.344/.384 (101 OPS+) overall with 14 home runs last season.
Davis of the Mets draws attention
The Mets were busy before the lockout, signing Max Scherzer, Starling Marte, Mark Canha and Eduardo Escobar. However, their next move could involve a trade.
According to Mike Puma of the New York Post, reserve JD Davis has estimated his chances of being traded to be "60-40". Puma notes that the Cubs, Red Sox, Twins and Athletics were all interested in Davis before the lockdown.
Davis, 28, had a successful three-year stint with the Mets. He batted .288/.373/.472 (128 OPS+) with 33 homers in 893 plate appearances. He has experience at third and first base, as well as in the outfield, making him an attractive option for teams that value flexibility.
Davis won't qualify for free agency until after the 2024 season.