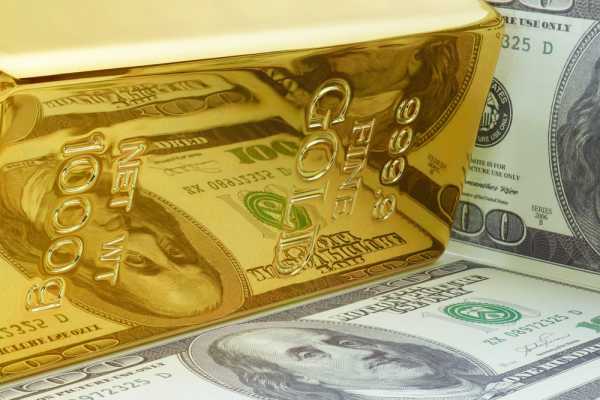 Gold set to recover 1900, then 2000
As for gold still below the descending red dots of the short parabolic trend, if price is expected to rally to the 1900 high as our opening analysis suggests, this trend should in turn return to long, allowing the or to then challenge the RUS/UKR war peak which reached 2079. on March 08, and ideally the absolute record of 2089 (August 07, 2020). It's not that far from here.
Nothing like a step in the right direction, huh? Still, getting back to the 1900s – let alone those earlier highs – pales in comparison to gold's current debasement valuation (according to the opening scorecard) of 4024. This true valuation is well over double the current market price of 1875. Moreover, in this regard, gold is long overdue to double! Namely, count by days as follows:
since the last trading day of the second millennium (December 31, 2000 for those of you who can count) when gold was at 274, it took 1,260 trading days (5.0 trading years) to double to 546 (09 January 2006);
followed by another 962 trading days (3.8 trading years) for gold to double again to 1096 (November 04, 2009);
but since then: gold's highest trade was 2089 (07 Aug 2020) which means the price has yet to double (from 1096 to 2192) even with this move to date of 3173 days trading (12.6 years of trading). However, US M2 money supply since that same November 4, 2009 has nearly tripled from $8.5 trillion to $21.7 trillion today. Gold's non-participation in tandem is apoplectically beyond absurd!
And yet the market (1875 today vs. 4024 valuation) is never wrong, even as more and more we read or hear that the market price of gold is being stifled by the "M Word 'crowd. Some analysts have apparently dug deep enough into COMEX time and sales data to unearth mathematical proof of "M". (No, we don't like to mention the "Word" itself).
But when entities with relatively large gold holdings and/or sufficiently marginal accounts engage in trading a market that is almost otherwise propertyless, "Mcan be put into play if desired. Is the price of gold getting a bit high, perhaps to the point that one has to make a physical delivery? God forbid! It is enough to sell a few hundred contracts on the market in such a way as to quickly suppress the prices.
Then slowly buy back the position one contract at a time so as not to drive the price up. "It's so simple, a troglodyte can do it!" Maybe some did. Either way, let's push the price of gold to the right!
In the meantime, here is something that has worked well when it comes to the stock market. For those of you who follow the website's S&P MoneyFlow page, its broader timeframes (one month and one quarter) recently led the index to the point of suggesting a drop of around 300 points. Because quite recently, the S&P had hovered around the 4200 level; yesterday it settled at 3900: "Uh-oh, it's magic"–[The Cars, '84].
Now, MoneyFlow's short-term timeframe (one week) indicates that we will see S&P stress rebound a bit. However, against the background that we thought a week ago that the S&P "relief rally" had run its course, it seems clear that the anticipated descent towards the critical 3600-3200 support zone has resumed.
"Of course, more fundamentally, if it's The Run to bring the S&P back to fair value, consistent with earnings – especially in a rising interest rate environment – then 3600-3200 is obviously peanuts. (But one support shelf at a time, right?)
Still, with the start of the second quarter earnings season about five weeks away – and given that the economic barometer has been falling throughout the second quarter so far – analysts' S&P calls for levels like 2900 are not out of the question, because the traditional " summer rally "This time all seems except. Remember: our "live" S&P P/E ratio is currently 30.3x vs.
Its average life of 22.3x; if earnings do not rise, this mathematically calls for a new S&P P/E meaning a return from here (3900) of -26% to "Hello!" 2900. Or the May 17 Prescient Commentary recap: "…we basically don't see any sense in being on the stock market…" Here's the Baro with the S&P 500 in red, the time period from a year ago to now :