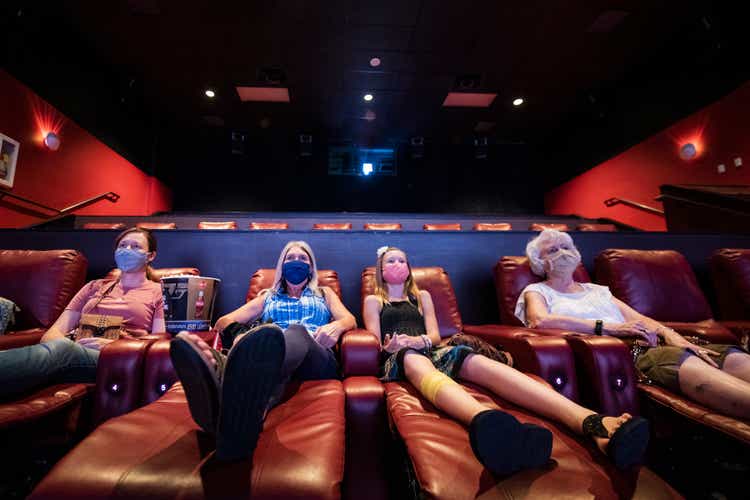 EPR Property Stock: Just Let the Good Times Roll (NYSE: EPR)
Investment thesis
I have been a fan of EPR Properties (NYSE: EPR) for a while, with my most recent article being published in May 2022. You may recall:
The price of EPR has remained relatively stable over the past year, but its prospects and financial situation are significantly better, making it an even better time to enter. At a reasonable multiple of 16x on FFO, this stock should trade at $70/share over the next year for a 40% upside and you can reap the juicy ~6% dividend yield that will only grow in the coming months.

The management team has also proven they can steer this ship in any economic environment as they just did in the inauspicious one possible which was COVID and came out the other side with the financial picture intact.

Source: EPR Properties: Having fun while making money
The second quarter results showed only positive signs and I maintain my price target of $70/share for the reasons discussed throughout this article. I will also explain why the 9% Convertible Series E Preferred (NYSE:EPR.PE) stocks are a viable alternative to the common I've discussed in previous articles.
Deferred collections on track
EPR's largest asset class, which accounts for 41% of EBITDAR, is cinemas. In my previous article, I discussed the staggering drop in box office sales between 2020 and 2021, which had a huge impact on three of EPR's largest tenants, namely AMC Entertainment Holdings (AMC), Cinemark Entertainment (CNK) and Regal Cinemas. In fact, AMC was on the verge of bankruptcy during this time.
We can see through 2022 that box office revenues are on track to pre-COVID levels. The top three blockbuster films already released this year, including Top Gun: Maverick ($650 million), Doctor Strange in the Multiverse of Madness ($400 million) and The Batman ($360 million) generated more revenue than all films in the first half of 2021. As a result, CNK and AMC are beginning to return to profitability (Regal is not publicly traded). Therefore, it would seem that COVID hasn't made the cinematic experience a thing of the past.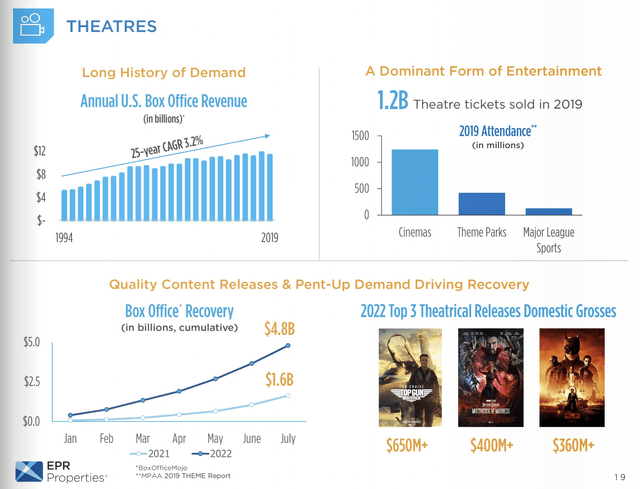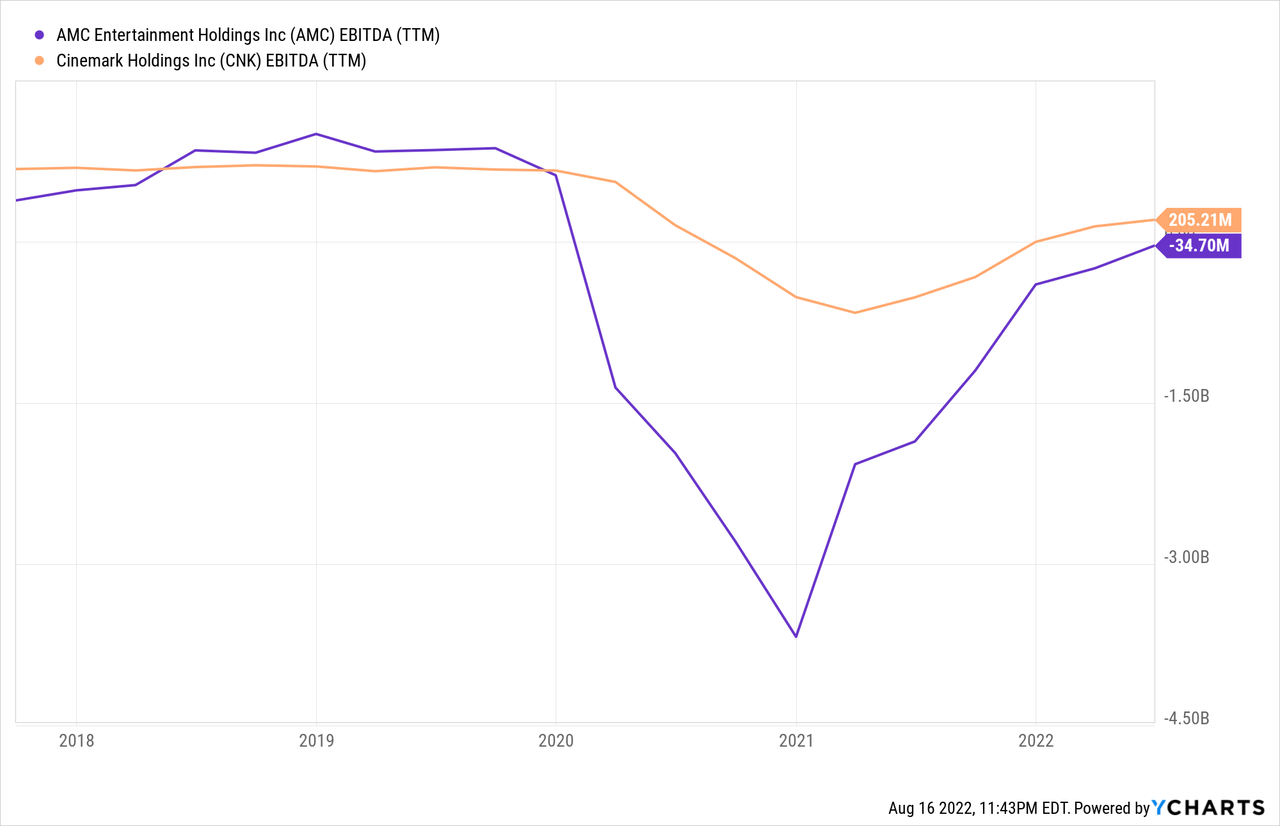 As of March 31, 2022, EPR had deferred amounts due from tenants of approximately $17.4 million which have been recorded as receivables. During the second quarter, EPR collected $4.9 million in deferred rent from customers on an accrual basis, which reduced receivables, and $4.7 million in deferred rent and 0, $3 million of deferred interest from customers on a cash basis which was recognized as additional revenue. The EPR is on track to be fully collected by mid-2023.
eat and play
24% of EPR's EBITDA comes from restaurants that also offer entertainment venues. This includes upscale bowling and pétanque restaurants as well as retro-themed gathering spots designed to appeal to socially driven millennials. EPR's largest tenant in the space is TopGolf.
Restaurants and drinking places reported total sales of $86.1 billion on a seasonally adjusted basis in June, according to the National Restaurant Association. This was up 1.0% from May's volume of $85.2 billion and marked the fifth consecutive strong monthly gain.
Foodservice establishments ranked second among major categories tracked by the National Restaurant Association, with total sales up 7.3% between the first and second quarters of 2022. menus, actual sales of food and beverage establishments increased 5.5% in the second quarter.
That's when the national average gasoline price was $5/gallon; imagine what expenses would have been in the absence of high gas prices.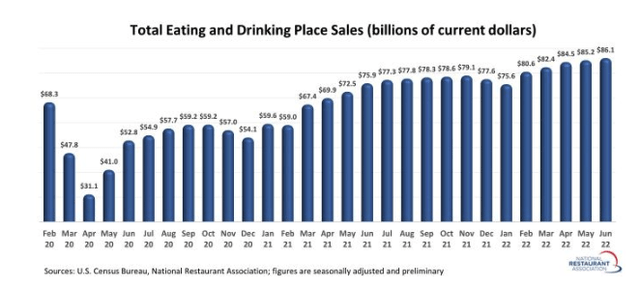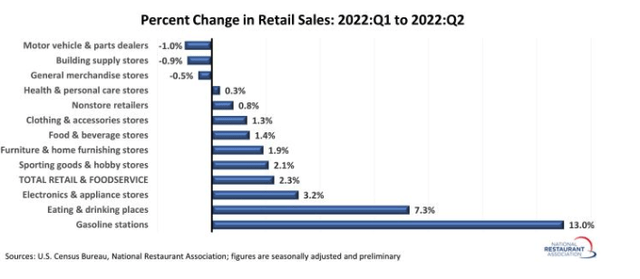 Attractions
The share of EBITDAR attributable to the attractions segment reached its highest level in EPR's history. Visits to its properties occupied by theme park operators such as Six Flags Entertainment (SIX) and Camelback Resort are now on track to exceed levels seen in 2019.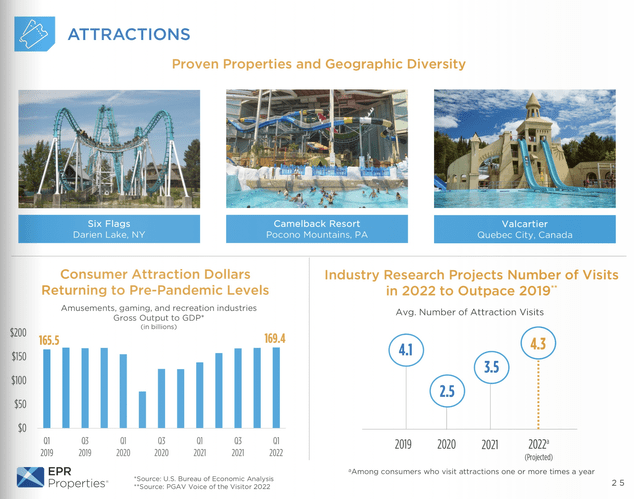 EPR's capital expenditures during the second quarter of 2022 totaled $215 million, bringing total CAPEX expenditures for the year to $239 million and included the acquisition of an 85% stake in a experiential lodging property for $50.6 million as well as the acquisition of two attraction properties in Canada. for $142.8 million. One includes Calypso Water Park in Ottawa, ON, which is the largest theme park in Canada, and the other is Valcartier in Quebec, QC. Consequently, this segment should experience substantial growth as a proportion of EBITDAR in the coming quarters.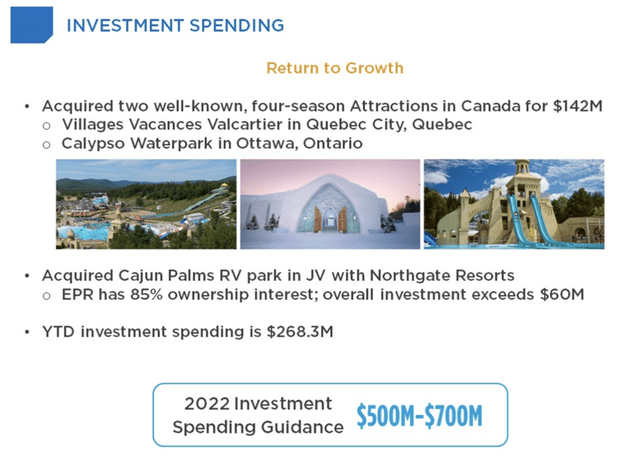 Tips
Things improved much faster than expected for the EPR coming out of its pandemic lows for the reasons mentioned above, which is why it topped analyst earnings and FFO estimates for the second quarter of 2022. management also raised its guidance for fiscal year 2022 and its FFO estimates don't even include deferred recoveries.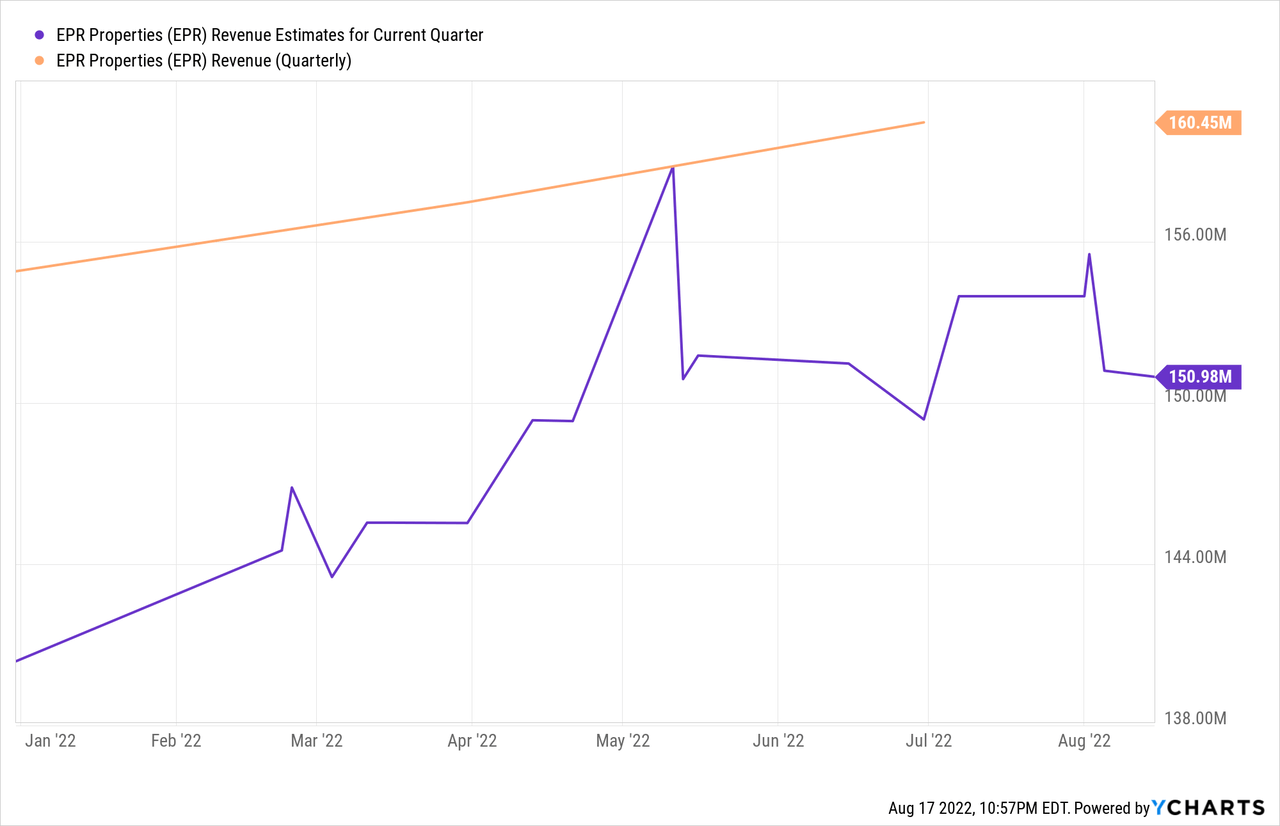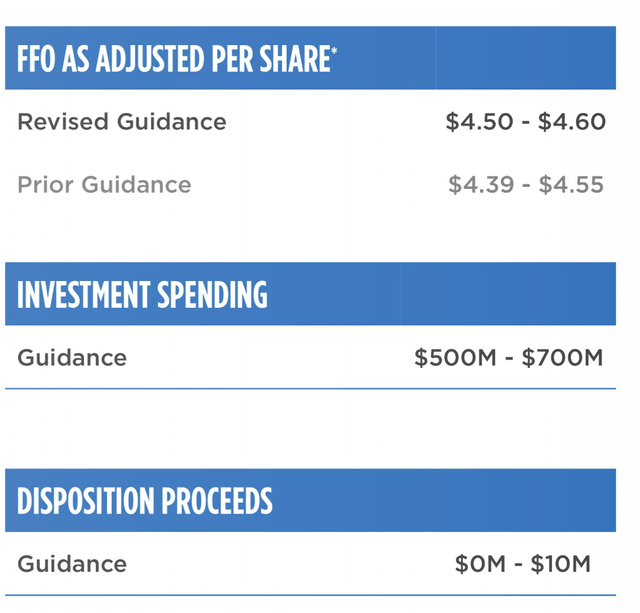 As mentioned earlier, EPR has spent $268 million in CAPEX to date, but expects to spend up to $700 million before 2022 YE. Management suggested in the Q2 2022 earnings call that it intended to spend the bulk of the CAPEX budget on non-theatrical properties as cap rates began to rise. Previously, cap rates were 7-8; management now expects to be able to invest more than 8%. Although the theaters segment is at an all-time low as a proportion of EBITDA, with higher CAPEX spending on attractions, dining, experiential accommodation and gaming, we should see even greater diversification of tenants from here the end of the year. Given EPR's current situation, it seems absurd that it is trading at an almost historically low valuation at around 11x FFO.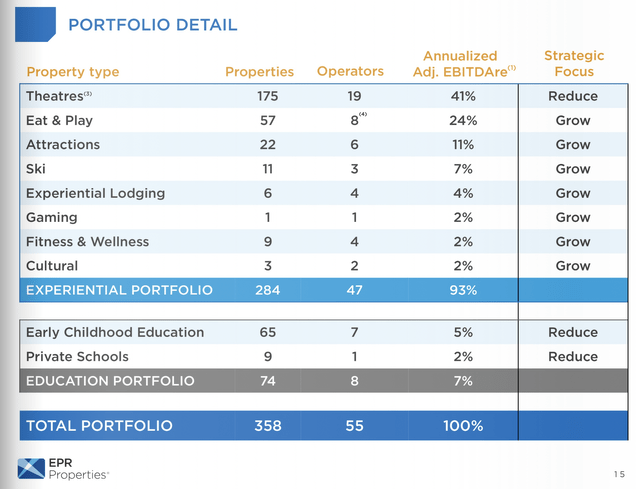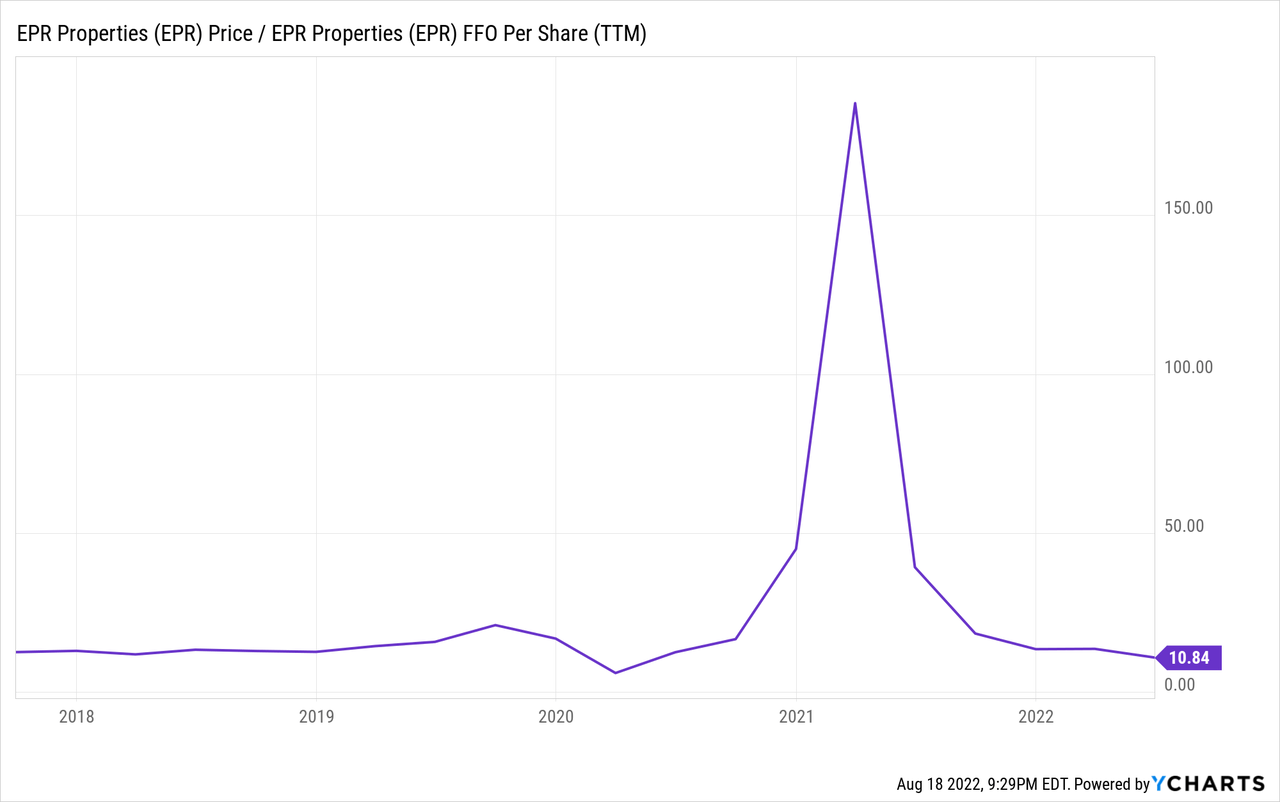 The payout ratio is only 73% of the lower range of guidance for fiscal 2022. Historically, the payout ratio has been at least 80% of FFO. Therefore, I would not be surprised to see the monthly dividend increase to at least $0.30/share before the end of the year. This would mean a forward payout ratio of at least 7% at the current price of $51/share.
Preferred shares
Previously, I have only discussed common stock, but I am also bullish on preferred stock or at least Series E and C preferred stock. EPR's preferred stock is summarized below:
EPR-C 5.75% Cumulative Convertible Preferred Stock Series C (EPR.PC)
EPR-E Series E 9.00% Cumulative Convertible Preferred Shares (EPR.PE)
EPR-G Series G 5.75% Cumulative Redeemable Preferred Shares (EPR.PG)
| | | | |
| --- | --- | --- | --- |
| Series | VS | E | g |
| Coupon rate | 5.75% | 9.00% | 5.75% |
| Convertible | Yes | Yes | NOT |
| Price/share | $23.98 | $31.08 | $23.62 |
| Yield | ~6.4% | ~7.2% | ~6.1% |
Series G offers the lowest yield and the shares are redeemable beginning November 30, 2022, which is likely why it is trading at a 6% discount to the liquidation value (per) of $25/share . It also does not offer any conversion options like the other two series.
Series E and C are redeemable but not at a specified price or date and are at 150% of the conversion price, which based on EPR's current price would be approximately $78/share and $78/share, respectively. 'about $81/share and probably won't be much of a short-term factor.
Series E and C preferred shares offer fairly favorable conversion options for realizing gains. The Series C shares have a conversion ratio of 0.4163 common shares per liquidation preference of $25.00 as of June 30, 2022 (equivalent to a conversion price of approximately $60.05 per common share). The Series E shares have a conversion ratio of 0.4826 common shares per liquidation preference of $25.00 as of June 30, 2022 (equivalent to a conversion price of approximately $51.80 per common share). The EPR stock price on June 30, 2022 was around $45/share compared to around $51/share today, which would have little impact on the conversion rate today.
Because Series E shares trade at a 24% premium to par, you are essentially spending $6 more for every $25 of liquidation preference, and therefore the effective conversion price is actually about $64/share. Series C shares offer a little more advantage if one were to convert as it would only be profitable to convert Series E if the stock price rose above ~$64/share versus $60/share for the Series C. Anyway, I see it profitable to convert either issue in the near term, as I have a minimum price target of $70/share for common stock of EPR.
Personally, I would go for Series E to collect the highest yield while waiting for EPR common stock to rally.
Conclusion
EPR common stock is inherently cheap and there is absolutely nothing wrong with owning these securities for the long term. However, Series E and C preferred shares offer a comparable yield with significantly more downside protection as they are superior in capital structure to EPR common stock. Additionally, stocks offer the potential for capital appreciation as undervalued common stocks are more respected by the market.