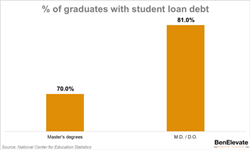 BenElevate Announces Improved Website, Tools to Make Student Loan Management Easier
"Managing student debt, and managing it optimally, is increasingly one of the most important financial concerns for early and mid-career professionals."

SCOTTSDALE, AZ (PRWEB)
October 19, 2022
BenElevate, an early-stage fintech company working to solve the student debt crisis by leveraging tools, expertise and tailored solutions to streamline student loan debt management for borrowers and employers, today announced the overhaul of its digital tools.
According to CEO David Johnson, BenElevate tackles a complex problem with a simple and refreshing perspective:
"Individual borrowers and their employers need help finding the best way to manage student debt, whether through pursuing debt forgiveness, optimizing payment plan(s), or We've updated our tools ensuring that our users, whether individual borrowers or employers, can easily navigate the traditional headaches associated with optimal loan debt management students."
BenElevate offers tools that support:
1) Evaluation. Determine the optimal approach to managing student loans for an individual, starting with determining if there is an opportunity for debt forgiveness and calculating its value.
2) Monitoring and Compliance. Assisting users in managing information requirements associated with successful student loan debt forgiveness.
3) Analysis. An apples-in-apples salary analysis of positions, including debt forgiveness, allowing job seekers to make an informed decision on which position is best for them.
4) Refinancing. The integrated refinance functionality allows users for whom refinancing is the optimal route to receive a personalized quote.
Founder Jason DiLorenzo said the following:
"The recent announcement of debt forgiveness and a new income-based repayment plan for student borrowers was extremely exciting, but we need to be clear-headed. The average level of graduate student debt is over $100,000. $.Between $10,000 and $20,000 is wonderful, but these borrowers will continue to have significant student loan debt.The management of student loan debt, and its optimal management, is increasingly l one of the biggest financial concerns of early and mid-career professionals.
Today, BenElevate helps its users optimally manage over $100 million in student loan debt. https://benelevate.com
Share the article on social networks or by e-mail: