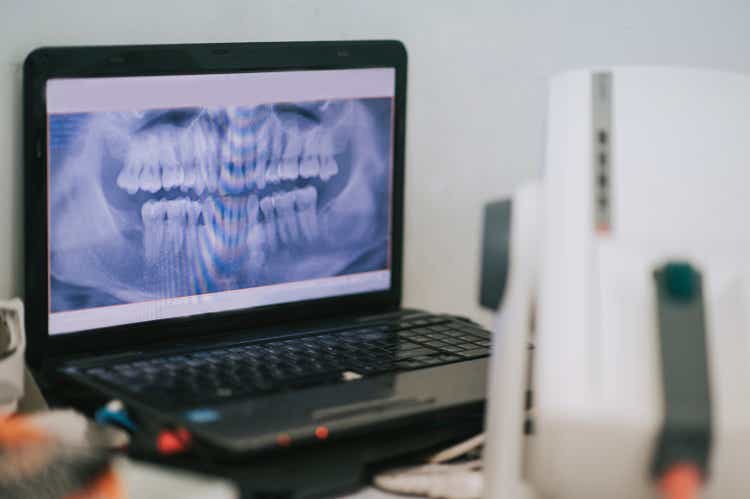 Align technology stock: strong across the board; Valuation remains somewhat worrying (ALGN)
Thesis
Align Technology, Inc. (ALGN) is a global manufacturer of innovative dental devices with a strong track record of growth and financial performance. As the dental care industry is expected to grow and become more friendly towards technologically advanced products, the company is expected to increase its market share and increase its revenue and earnings. In this analysis, I examine Align's business, financial performance and valuation, and the outlook for the industry over the next decade.
Recent stock market performance
Over the past 6 months, Align Technology has fallen on the revaluation path of growth stocks, following an impressive rally in share prices following the outbreak of the Covid-19 pandemic. During a period of uncertainty and broader market decline, ALGN saw a sharp decline of more than 25%, now trading at $499, with a 52-week low of $432. Over the same 6-month period, the S&P recorded a small loss of -0.45%, while the healthcare sector experienced a broader decline of -4.66%. From a longer-term perspective, over the past 5 years, Align's stock price has risen 422%, beating both the S&P 500 and the healthcare sector. Currently, the stock has a 5-year monthly beta of 1.67, pays no dividends, and trades at a market capitalization of $39.3 billion.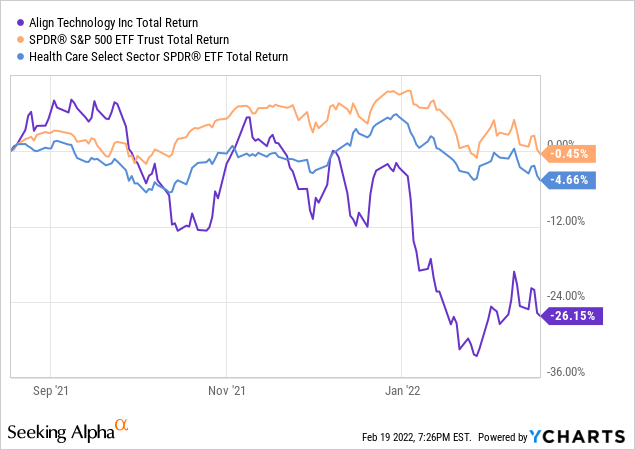 The dental care industry
The global dental care services market is showing encouraging signs of growth and is expected to reach USD 700 billion by 2030, and is expected to grow at a CAGR of 6.3% for the 2020 decade, According to research. On a similar trajectory, sales of dental equipment and consumables are also expected to grow at an annual growth rate of over 6% over the next decade. The global dental market is expected to grow from $29.63 billion in 2021 to $45.68 billion in 2028. The dental consumables and equipment market has been hit hard by the Covid-19 pandemic, with sales down 7.4% in 2020. Nevertheless, stronger demand and higher levels of healthcare spending over the long term should contribute to a sustainable expansion in the industry.
A growing business
Align Technology's business model revolves around the design, manufacture and marketing of dental medical devices. The Company's products are primarily intended for the treatment of malocclusion or misalignment of teeth and are designed to help dental professionals (primarily orthodontists) achieve better outcomes for their patients. Align's clear aligners and the Invisalign system are the company's most successful offerings, aiming to become the preferred choice of dental practitioners worldwide. To date, nearly 10 million people have been treated with the Invisalign system. Align Technology operates through two distinct operating segments: Clear Aligner and Imaging Systems and CAD/CAM Services. Clear Aligner is the largest segment, responsible for approximately 85% of global net revenue.
Over the past decade, Align has shown significant sales growth through continued digital innovation and increased R&D spending. And this despite strong competition, both nationally and internationally, offering more traditional product solutions. Revenue and net income have increased by 23% and 28% CAGR over the past 10 years, while free cash flow growth presents an even stronger record, with an average annual growth of 29% over the same period. Profit margins have also consistently displayed Align's effectiveness over the years. Gross margins have held above the 70% level, while net margins have seen more fluctuation, currently sitting at a generous 20%.
Align Technology also generates abundant amounts of free cash flow. FCF for 2021 is over $900 million, with margins growing steadily over the past five years, despite some fluctuations in the early 2010s. In November 2021, the company also purchased $100 million dollars worth of common stock under an accelerated share buyback program, reiterating management's commitment to increasing shareholder value through buybacks.
Balance sheet strength
Align's track record is one of financial health that inspires confidence. Current and fast ratios of 1.3 and 1.1 should ease any near-term liquidity issues. At the same time, the company's very low leverage is another attractive point for investors. Align Technology has virtually no debt, with the company's cash balance amounting to half of total liabilities. With no interest payments to nibble on net earnings and no cash flow problems to worry about, Align can deploy its growing cash balance towards acquisitions, share buybacks and capital expenditures.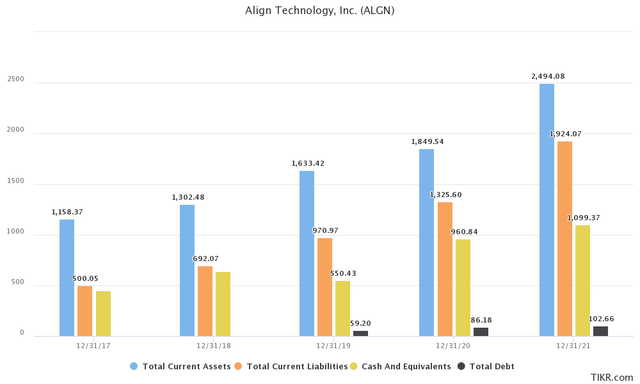 Evaluation
By most valuation metrics, Align Technology is getting cheaper, although in my opinion the stock still has some ground to lose before it gets properly priced. Align's P/S ratio has been halved over the past year, with the stock currently trading at a 10x multiple, which despite a solid growth record and potential, can be seen as a little expensive. Even taking into account forecast sales for 2023, Align would be trading at a P/S multiple of 6.8x. What this likely shows is that the expected growth has already been priced into the stock's current valuation, perhaps even overvalued in the past, as even after the pullback, valuation multiples remain high. The same goes for EV/EBITDA and P/FCF multiples which, as the chart below shows, despite the recent pullback, are still trading at very generous levels.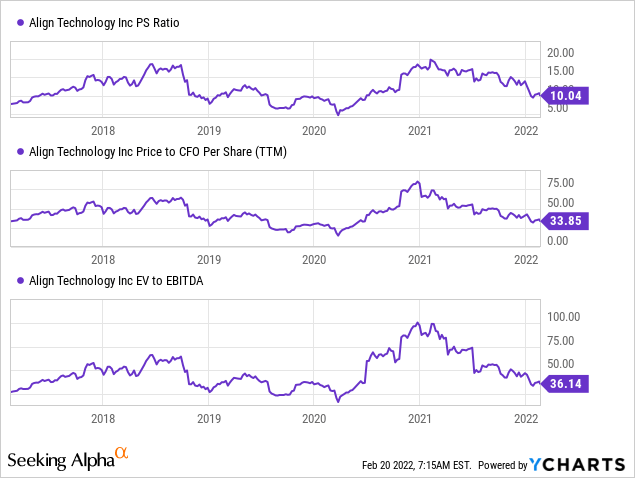 Final Thoughts
After all, there's no doubt that Align Technology is a well-run company with solid growth prospects. An increasingly popular product line, strong profit margins and a healthy balance sheet are just a few of the title's attractive points. As the growth-to-value rotation continues and the market perhaps enters a deeper correction phase, ALGN should have a place among investors buying wish lists. Provided a somewhat lower valuation is achieved, Align would present an attractive investment opportunity.